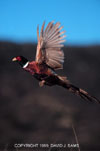 Santa Anna Hunting Area (SAHA) is a family run hunting preserve. Eldena and I run the day-by-day operations on the section size preserve (600 acres) which include: Pheasant, Chukar, Hungarian Partridge and Quail hunts.
John R. Stearns started Santa Anna Hunting Area in 1986. He realized then that hunting was becoming less and less accessible and that hunting has never been free. The days of the knock on the door "Can I hunt" and the "cheap hunting lease" are gone.
I was fortunate to have been raised in a hunting tradition. As a boy, I don't remember a time without the lick to my face by a dog. My family had wire haired terriers inside and English Pointers outside. Teasing a pointer with a quail wing on a pole, trying to find the next "snakefoot" was part of the summer vacation. In West Texas the end of the summer meant Labor Day and dove hunting, followed by quail hunting.
After high school, I worked for Dad stringing barbed wire around what would be Santa Anna Hunting Area. I was struck with the beauty and quiet of the Santa Anna Mountain then and even more now.
I worked the summers, building corrals, fences, barns, ranching, dry land farming, welding, carpentry and doing just about anything. I didn't know it then, but I was getting the necessary education needed to run a preserve. All the while going to college in the winters to eventually end up with a MFA in 1981 in ceramics and sculpture. For the next six years I worked as a trim carpenter and remodel contractor in Austin, Texas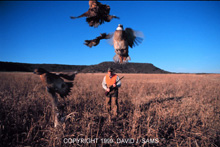 In 1988 my father approached me to help him run and and eventually take over the business of Santa Anna Hunting Area. His one-man operation was getting too big for one man. He had been incubating and producing all his own pheasant and most of his own quail. I agreed to it, just to get out of the big city and I was crazy about the land he owned and I grew up on. My father's choice of the land around Santana Mountain to start a preserve cannot be understated.
For the first year I concentrated on building more pens, kennels and a bird processing facility.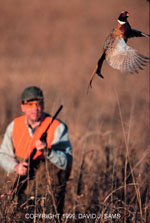 During this time, Dad was teaching me the many aspects of raising game birds and hunting them, after this expansion we've remodeled many times. This was such an exciting for me, so much to learn, to build, trying new things, and we had to get it right. Hunting is such an innate and universal sport. With the proper mix of birds, dogs, cover and personel you can create an outdoor experience as old as time itself.
Santa Anna Hunting Area became incorporated in 1994 and Saha Inc was born. Dad has stepped back to doing the books and still hunts with us.
Eldena and I were married in 1998. Her experience in the gamebird business began in 1982. She brings a wealth of information and experience to Saha. I am so lucky to partner this business with her. Besides raising birds, she trains dogs and guides hunts. She is very committed to the hunting tradition.
In 2002 we updated the hatchery to a "state of the art" facility and Saha's is NPIP certified and A1 Clean. Now, we are enlarging the dog kennel area to include a training ground. I guess it's easy to say that we are only limited by our imaginations, time and finances
Gerry Stearns